There is a lot to be said about this movie. First of all, this is not the full short. During production the director, producer, and one of our grips were involved in a devastating car accident that sent all of them to the emergency room and... Victor Guerrero, our grip, into intensive surgery. Production was halted, to be picked up at a later time but financial problems set in once hospital bills and such started piling up. All primary footage was lost. Over a year later we have recovered some footage and this is the end result: the Christina Concept Trailer.

Thank you to everyone that was apart of this production, we spent some long, hot, unairconditioned days cramped in small spaces but everyone was so dedicated to this ALMOST true story, that the entire experience was surreal. We didn't want that experience to fade away so the concept trailer is more of a dedication to the hard work you all put into this story. From the bottom of our hearts, thank you.
Powered by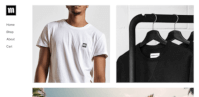 Create your own unique website with customizable templates.